Power Supply / Industrial Inverter / Railway Approval
Type WR-5080 (1~), rated power up to 200 kVA
Type WR-5081 (3~), rated power up to 500 kVA
Type WR-5073 (inverter plug-in modules)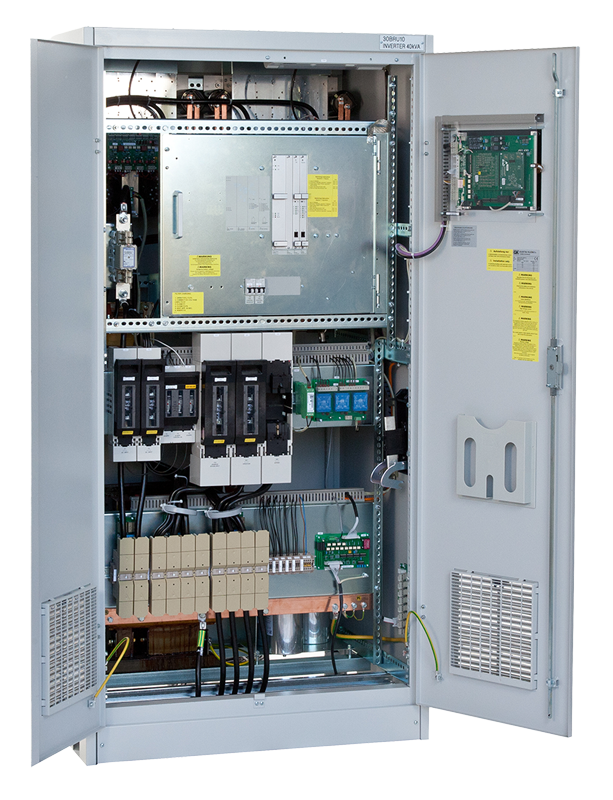 Our static inverters are designed as uninterruptible power supplies (inverters in combination with rectifiers and batteries) to bridge short-term interruptions, mains failures, voltage fluctuations, frequency fluctuations or generally to compensate for mains disturbances in the field of data processing and in systems of automation and control technology. They are used to supply AC consumers, primarily in the railroad and industrial sectors.
The maximum available inverter power is 500 kVA (3~) or 200 kVA (1~).
Decades of use in telecommunications, railways, power stations, air traffic control, hospitals and industry speak for the high quality and reliability.
Inverter plug-in modules are available for smaller outputs (see brochure).
Gustav Klein inverters type WR-5080 and WR-5081 are equipped with a color touch screen display and consist of the components:
Transistor inverter with PWM technology
Isolating transformer in the inverter output
Electronic bypass
Manual bypass
Efficient and cost-effective maintenance and servicing due to well thought-out unit design
Highest availability and long service life
High control dynamics (> 4 ms)
Simple display and operation through TFT display
High performance available:
single-phase up to 200 kVA, three-phase up to 500 kVA
Two-stage fan monitoring of the power units (warning, shutdown)
Parallel operation of up to eight units (up to 1500 kVA in the system)
Many custom options available
Input voltage 24 / 48 / 60 /110 / 220 / 372 V DC
Isolating transformer acc. VDE 0558-507 or ÖVE / ÖNORM E 8007 in bypass cabinet
Parallel running device
Large selection of interfaces available (e.g. SNMP, Modbus)
Step switch overlapping for switching to bypass
Cabinet equipment: lighting, heating, sealed cable gland, protection class other than IP20
on request we also offer inverters type WR-5077 (1~) and WR-5078 (3~) without TFT display and without possibility of parallel connection
Inverters
Type WR-5080 and WR-5081
Transistor, PWM, galvanically isolated

24, 48, 60, 110, 120, 220, up to 1000 V possible
1/N/PE AC 230 V
3/N/PE AC 400/230 V

AC input voltage tolerance
Nominal data AC output (inverter output)
1/N/PE AC 230 V or 3/N/PE AC 400/230 V

Overload capacity for 10 ms
Current feedback effects on
the DC rail
± 4 % @ 100 % load change

± 2 at 100 % unbalance L-N
Output voltage setting range

± 5 % (+ 5 % under restriction of nominal data)

Settling time (instantaneous value control)

Distortion factor (with linear load)

50 or 60 Hz ± 0.1 % or
mains-synchronised to the AC input

1.50 x INom for 60 seconds
1.25 x INom for 10 minutes
1.10 x INom for 20 minutes

short-circuit proof,
Short-circuit current 2x INom (1-phase)

Short-circuit current 2-4x INom (3-phase)
Inverter stop after 5 s

0.0 inductive - 0.0 capacitive
Power reduction in case of deviation from cos φ 0.8 ind.

Permissible crest factor of the load current
Protection class according to EN 61140

Protective conductor current

Protection class according to EN 60529

Permissible installation height at nominal load

1,000 m above sea level
Minimum air pressure 870 hPa

RAL 7035 solid colour textured lacquer

"AN" natural cooling or
"AF" forced air cooling

Relay interface
8 signals / 2 potential-free
changer per signal

Inverter operation
Mains operation
Battery discharge
Deep discharge prewarning
Mains fault
System malfunction
2x reserve
Applied guidelines and standards
Permissible environmental conditions:
Storage according to EN 60721-3-1

Transport according to EN 60721-3-2

Operation according to EN 60721-3-3

3K22 / 3M11 +5 to +40 °C

5-85 % rel. Humidity, no condensation
Pollution degree 2
EN 61439-1

EN 61439-2

EN IEC 62040-2
Subject to technical changes
We will be happy to check your requirements/specification for feasibility.
Brochure WR-5080 and
WR-5081 as PDF
Brochure WR-modules as PDF
You want to know more about our products? We will be happy to send you more information by e-mail!